Venue
March, 24th and 25th, 2014
Location:
Dom Polonii (Polonia House)
Renaissance Hall on the first floor
Rynek Główny 14
The conference venue, Dom Polonii (Polonia House), is a beautiful six-hundred-year a historic townhouse in the very heart of Kraków, surrounded by similarly unique Renaissance architecture. It is located in the southern corner of Rynek Główny (Main Square) close to the small white St. Adalbert (Wojciech) church, on the right side at the beginning of Grodzka street.
Dom Polonii is located in the picturesque part of the Old Town called The Royal Route.
The Royal Route or Royal Road is the historic tract which was used by the Kings of Poland to enter the Wawel Hill. The route begins in the northern part of the city near St. Florian's Church in Matejki Square, passes by the Krakow Barbican - the main entrance to the city, through St. Florian's Gate, along ul. Florianska, across the Rynek Główny (Main Square) - the largest medieval market square in Europe (with Basilica of St.Mary, St.Adalbert Church, Cloth Hall, Town Hall Tower, many beautiful townhouses and monuments), down Grodzka and Kanonicza street to Wawel Hill.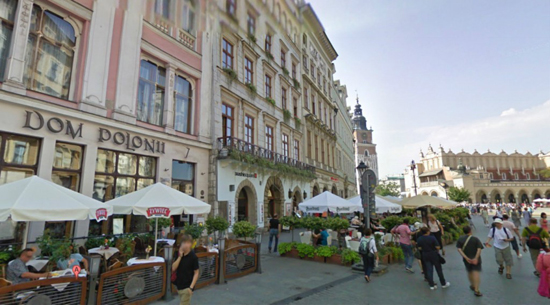 Location:
The Henryk Niewodniczański Institute of Nuclear Physics PAN
Radzikowskiego 152
31-342 Kraków, Poland
SYRA3 Workgroup meeting will be held on March 26th morning at the Institute of Nuclear Physics Polish Academy of Sciences in Kraków.